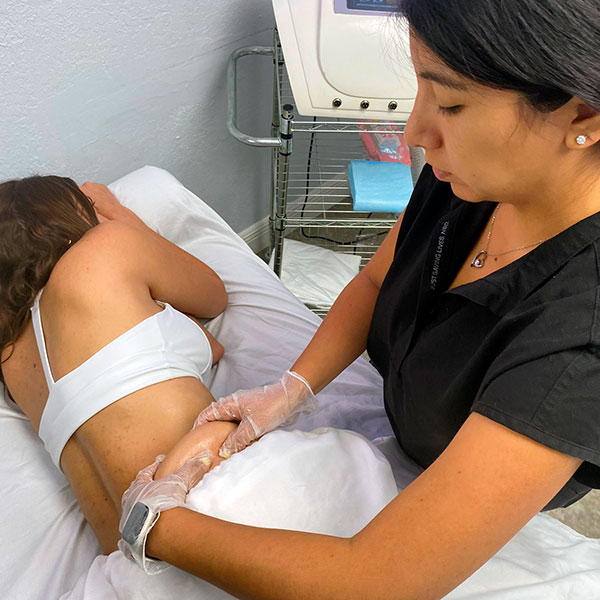 Fat reduction massages consist in reducing fat that's been accumulated between the muscle and skin. We apply this technique in the abdomen, love handles, back, arms, glutes, and legs. For this treatment we combine deep tissue massages, cavitation and lymphatic drainage.
Ultra Cavitation is a treatment that uses high intensity and low frequency ultrasonic waves to aid in the reduction of fat cells in the body. This system uses two specially designed heads which have intensity of 40 Khz and 25 Khz. These specifically designed wave intensity's create micro bubbles inside the adiposities, causes the cells to disintegrate and emulsify into the lymphatic system of the body. The fatty acids will be broken down into simple fatty acid groups. The ultrasound frequency waves are designed on this system to be both safe and effective on the body. This system can be used in a variety of treatments ranging from fat and cellulite reduction, body shaping and contouring. Reduction can range from 1-2 cms. per session, depending on patient.
The use of cavitation is not only for the elimination of localized fat. It can also been used as a muscle toner. While fat is being eliminated from areas like the arms it allows for that area to become more firm and toned quicker and with less flaccidity.
An important advantage of cavitation that should be mentioned is that it's a non-invasive process. Although for this same reason it is contraindicated for individuals with heart problems, pace makers, pregnancy, and those with metal plates implanted in the body, etc.
This treatment may also be accompanied by vacuum therapy, electrical stimulation, vibrotherapy, wood therapy, and hot blanket. The combination of these techniques allow for better and quicker results.
It is very important to drink water before and after each session. Throughout the duration of your treatment, we recommend that you drink a minimum of two liters of water a day. For best results, we recommend treatments 2-3 times a week at the beginning of treatment course, number of sessions recommended would vary and be unique per person.
What Are You Waiting For...
Please complete the following form and we will contact you shortly.